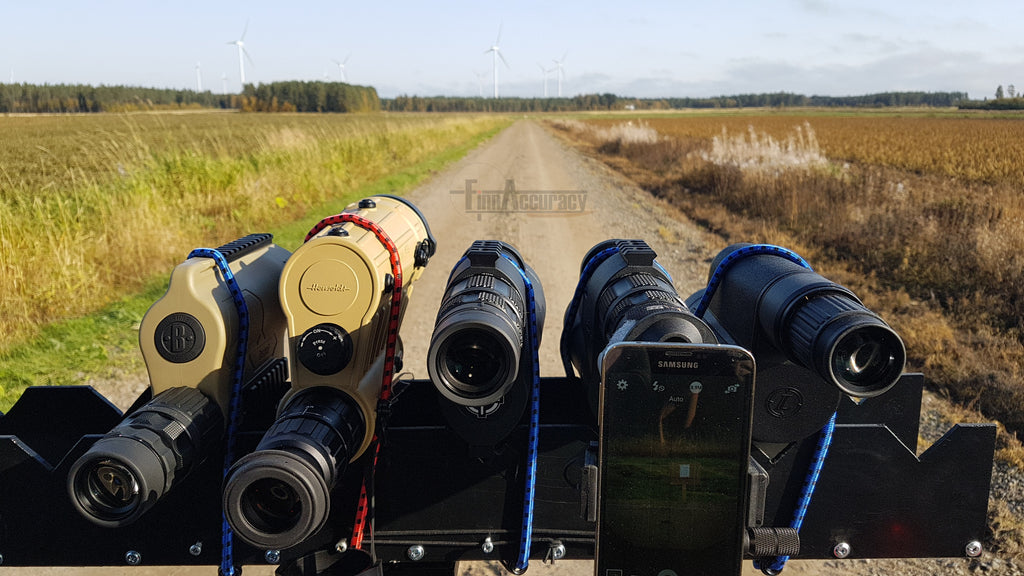 Reasonable priced FFP spotter review - Katsaus edullisiin FFP spotteriputkiin
SCROLL DOWN FOR ENGLISH VERSION
Tekniset tiedot artikkelin lopussa / specifications on bottom of this article
For used FA optics test, click this / FA optiikkatesti löytyy klikkaamalla tätä
Markkinoilla on ollut jo pitkään tarjolla muutamakin käytännöllisen pitkänmatkan ampumisen tueksi soveltuva edullisemman hintaluokan tähystyskaukoputki.
Yleisesti ja esipuheena on todettava heti kärkeen se että vertailu huomattavasti kalliimpia referenssiputkia vastaan ei ole missään nimessä reilu- eikä sen ole tarkoituskaan olla. Tarkoitus on todeta erot luotettavasti, ja antaa kohtuullisen hyvä käsitys siitä mitä rahalla oikeasti saa. FinnAccuracy myy kaikkia testissä mainittuja kaukoputkia- mutta oleellista on silti että ostaja tietää mitä on ostamassa. Tämä on ollut politiikkamme aina.
Käyttökelpoisten tähystimien ongelmana on ollut aina silmiäkirvelevän korkea hinta. Käytännön vaatimukset rajaavat kuitenkin ristikottomat kaukoputket pois, jäljelle jäävät ainoastaan sangen hinnakkaat sotilaskaukoputket. Koska asia on valvottanut FA – R&D teamia öin ja varsinkin päivisin, päätimme ottaa asiasta selvää ihan itse.
Katsauksessa kokeiltiin kuutta kaukoputkea: Bushnell 15-45x, Sightmark 15-45x ja 20-60x, Leupold Mk4 12-40x, Hensoldt Spotter 45 15-45x ja Zeiss Diascope 85 20-75x. Hensoldt on testiryhmän kallein yli 4000€ hinnallaan. Hinnat nousivat juuri ennen kirjoitushetkeä (9/2017), ja lisäksi putken hinnassa on mukana n. 400€ ristikkolisenssimaksu. Luonnollisesti myös Leupold maksaa ristikon lisenssistä, ja siirtää kustannuksen eteenpäin loppukäyttäjälle. Leupold on silti huomattavasti edullisempi, TMR- tai mildotristikolla n. 2300€. Ennakko-odotusten perusteella optinen "kukkulan kunkku" ja myös lintuharrastajien kestosuosikki Zeiss Diascope maksaa Vario- silmäkappaleineen noin 3000€. Zeiss periytyy ajalta jolla Hensoldt oli vielä osa Carl Zeiss GmbH:ta. Esimerkiksi Diascopen tarkennusmekanismi on alun perin sotilashaara Hensoldtin suunnittelijoiden käsialaa, vaikka mekanismiä ei ole koskaan Hensoldtin kaukoputkissa käytettykään.
FFP -kaukoputkimaailmassa edulliseen kastiin laskettavat Sightmark ja Bushnell ovat kaikki alle 1000€ kaukoputkia, tosin isompi Sightmark niukasti.
Tekniikasta
Tyypillinen kaukoputkirakenne - kuvassa eräs Leupoldin malli.
Suurennosmekanismi, okulaari sekä prismat hyvin näkyvissä. Kulunut sanonta "halvalla ei saa hyvää optiikkaa" on hieman hämärtynyt. Nykyinen kaukoidän halpatuotanto voi parhaimmillaan oikeasti haastaa hyvällä hinta-laatusuhteella perinteisiä laatumerkkejä, mutta absoluuttisella suorituskyvyllä toki ei. Ei varsinkaan tilanteessa jossa kilpailija maksaa kuusinkertaisesti. Toisaalta, lasi- kuten aserautakaan- ei kuitenkaan tiedä eikä välitä missä se on tehty, kunhan se on tehty oikein. Paperilla edullisemmat spotterit vaikuttavat silti sangen mielenkiintoiselta, suorastaan hyviltä. Kaikkien spekseissä on maininta vesitiiviydestä, ja kaikissa on myös monikerrospinnoitetut linssit (kaikki linssit) sekä dielektriset peilit prismoissa. Tosin Bushnellin kohdalla peilityypin tietoa piti hieman kaivaa. Bushellin prismojen kohdalla on myös mielenkiintoinen BaK4- maininta prisman lasimateriaalista. Nimilyhenne on huippukiikaireista tuttu ja laadustaan tunnetun Saksalaisen raakalasitoimittaja Schott Glasswerkin tuotemerkki- mutta ei silti välttämättä sama asia. Kaukoidässä valmistetaan optista lasia samalla nimellä, mutta väljemmillä spekseillä. Esim mikrokuplamäärä ja moni muu asia (refraktio, diffraktio) ei ole samasta nimestä huolimatta samaa tasoa. Bushnellissä on maininta myös "PC-3 vaihepinnotteista". Nimi viittaa valon värihajonnan ehkäisemiseen. Mikäli linssiä/prismaa ei pinnoiteta oikein, eri allonpituudet (värit) valossa taittuvat lasin rajapinnalla eri kulmassa. Seurauksena kuvan sumentuminen värien leviämisen vuoksi- kromaattinen aberraatio. Loppupeleissä ainoa mikä ratkaisee on kuitenkin lopullinen kuvanlaatu. "Pumagi pumaga, praktika jest praktika", kuten Stalinkin ystävällisesti opasti neuvostokansalaisia papereiden ja käytännön erosta.
Kolmikon selvästi kevein ja siroin kaukoputki on Bushnell, olemukseltaan pitkälti Mk4- kaukoputkea muistuttava. Kaikkien toimituspakkaukseen kuuluu erittäin käytännöllinen cordurasta valmistettu "skini", jonka tarranauha/vetoketjuläppien taakse linssit saa suojaan kädenkäänteessä. Oikeasti toimiva ja näppärä suojaratkaisu!
Zeiss Victory Diascope
Kaikissa on myös integroidut picatinnykiskot rungoissa, eli putkeen saa esimerkiksi kiinnitettyä helposti punapisteen pikasuuntaamista varten. Kaikki voi myös asentaa halutessaan tripodiin ylösasalaisin, sekä ylä- että alapuolella on ¼ kamerakierre. Kaikissa runkomalli on ainoa oikea käytännölliseen katseluun- eli suora.
Kolmikko käyttää myös osittain saman toimittajan komponentteja, silmäpää zoomimekanismeineen on sama. Objektiivilinssin heijastuksen väri on kuitenkin Sightmarkeissa eri kuin Bushnellissä, eli optisia erojakin on- ainakin pinnoitteissa.
Leupold Mk4 12-40 Horus H-32 ristikolla. Etäisyys 400m.
Ristikoissa Bushnell erottui edukseen, paristakin syystä: Kuten Sightmarkeissakin, ristikko on ohut eikä käytännössä juurikaan häiritse tähystämistä. Ristikon reuna-osat on tehty 0.2mrad viiva-askelluksella, tämä mahdollistaa paljon tarkemman kohteiden mittaamisen kuin Sightmarkin 0.5mrad. Bushnellin mitta-asteikko on 2% pielessä, mutta prosenttiluku mahdollistaa silti rivakan päässälaskemisen esimerkiksi ristikolla mitatun matkan korjaamiseen. Isomman Sighmarkin ristikko on pielessä n. 34% eli sen hyödyntäminen on erittäin hankalaa, käytännössä mahdotonta. Pienemmän Sightmarkin ristikko pitää täsmälleen kutinsa, kuten mitat ovat oikein myös Hensoldtissa ja Leupoldissa. Käytännön long-range kenttäammunnassa sekä Sightmarkin että Bushnellin ristikot toimivat kuitenkin paljon Horusta paremmin, Horus peittää tähystettävän kohteen erittäin tehokkaasti. Käytännössä ristikkoa ei voi viedä kaukaisuudessa olevan ammuttavan maalin päälle "odottamaan" ja korjata ristikkoreferenssillä iskemän tarkka paikka välittömästi ampujalle. Käytännössä iskemät ovat usein erittäin vaikeasti havaittavia vaikka näkökenttä olisi täysin puhdas. Mitä pienempi kaliberi ja mitä vähemmän pölyävä maaperä, sitä vaikeampaa näkeminen on. Leupoldin kohdalla suositus olisi siten yksinkertaisen toimiva TMR- ristikko.
Mittaaminen 
Mittaus tehtiin kahdessa osassa. Kokeilussa mitattiin absoluuttista resoluutiota eri väritaustoilla, käytännössä myös kontrastia. Kromaattista aberraatiota testissä ei huomioitu, katselunkelin olisi pitänyt olla parempi luotettavien johtopäätösten vetämiseksi. Käytännön kokeilulla haettiin myös vastausta jokaista ampujaa kalvavaan kysymykseen: "kuinka kauas sillä näkee luodinreiät?". Oikeita luodinreikiä ei käytetty, vaan käytännön syistä mustia mittatarkkoja dotteja. Resoluutiotaulut vietiin 214m etäisyydelle. Mittataulut on alun perin skaalattu perinteisille kiikaritähtäinsuurennoksille max n. 25x ja matkaa jouduttiin hieman venyttämään isojen suurennosten vuoksi. Matkaksi valikoitui mainittu 214m. Tämä oli myös erittäin lähellä maksimia vaikka keli ei ollut erityisen väreilyaltis- 14C, puolipilvinen ja tuulta. Testituloksia katsellessa kannattaa huomioida myös se että testisheetin erottelukyky ei ole aivan suoraan verrannollinen laskennallisen teoreettisen maksimierottelukyvyn kanssa. On eri asia havainnoida esimerkiksi yksittäistä halkaisijaltaan 1 kulmasekunnin pyöreää dottia, kuin useita pitkiä rinnakkaisia viivoja joiden paksuus ja keskinäinen väli on sama 1 kulmasekuntia. Käytännössä viivaryhmämittaus antaa parempia tuloksia, eli paremman erottelun. Jopa parempia kuin teoreettinen apreretuuripinta-alan määräämä maksimiresoluutio voisi ikinä olla. Vertailukelpoinen mittaus kuitenkin on, mikäli kaikki kaukoputket mitataan samaan aikaan. Väreily + valotusaika puurouttavat kuvan ja sotkivat auto-focuksen, joten oheisten valokuvien hyöty jää lähinnä fiilistelyn tasolle. Yritettiin kuitenkin.
Luodinreikäsimulaatio tiedettiin hankalaksi, väreilyä ei ollut erityisen paljon mutta silti liikaa. Testi tehtiin tästä huolimatta. Kiikaritähtäimen kanssa monesti todettu asia päti myös kaukoputkiin- paremmalla optiikalla myös väreilyn "läpäiseminen" on paljon helpompaa. 200m tasalla kaikilla putkilla pystyi näkemään vielä aavistukset kaikista rei'istä. 300m tasalla 15-45 Sightmarkilla pienin havaittava luodinreikä oli 50cal. Bushnell 15-45:lla näki näki vielä .338 reiän. Sightmark 20-60:lla puolestaan pystyi nipppanappa toteamaan 7.83mm dotin. Leupold 12-40 ja Hensoldt 15-45 katsottaessa 6.5mm reikä näkyi vielä. 400m tasalla Hensoldt ja Leupold olivat edelleen tasaveikkaisia, kummallakin näki vielä .338 dotin. Sightmark 20-60 –putkella 50 cal oli ainoa joka enää näkyi. Tässä vaiheessa rinnalle otettiin myös Zeiss Diascope 85, jolla näki vielä 6.5mm reiän- niukasti mutta kuitenkin. 500m matkalla väreilytilanteen tiedettiin muuttuvan lähes toivottomaksi kaikilla kaukoputkilla. Selvää oli että lähes varmasti ainakaan 50cal pienempiä ei olisi voinut nähdä. Eikä 600m matkalla varmasti mitään, yhdelläkään putkella. Laskennallisesti Zeissin 85mm objektiivi kykenee tuottamaan maksimissaan .22 reikää vastaavan resoluution vielä 815m etäisydellä, näkyvän valospektrin keskiarvoaallonpituudella 575 nanometriä. Vastaavasti 60mm objektiivi tiputtaa teoreettisen maksimin n. 570m etäisyyteen, joten laskennallisesti pelkkä objektiivin pienentäminen vie resoluutiota 30% pois. 85mm vs 60mm objektiivien pinta-alaero on melkein 50%, tämä ei voi olla vaikuttamatta. Käytännössä teoria ja käytäntö eivät kuitenkaan kohtaa- ilmassa oleva kosteus (=vesipisarat) sekä varsinkin väreily heikentävät aina kuvanlaatua. Mitä kauemmas mennään, sitä suurempi suhteellinen vaikutus. Myös kontrasti vaikuttaa käytännön näkemiseen suuresti, putkimallien/valmistajien välillä voi olla suuria eroja.
LISÄYS - dottikatselu uusittiin yhdellä kaukoputkella paremmassa säässä. Tulokset voi lukea täältä
Sightmark 15-45, 200m. Kaikki reiät vielä nähtävissä.
Esimerkki siitä mitä asiallisella linssikaukoputkella voi nähdä kun katselukeli on erittäin hyvä. Ylempi kuva otettu Leupold Mk4 -kaukopukella, etäisyys keskellä näkyvään kirkontorniin 14.7km. Alemmassa kuvassa Zeiss Diascope 85:lla otettu kuva Phytagoraksen kraaterista, halkaisija 130km. Kraaterin syvyys on 5km, ja sen keskellä olevan kaksihuippuisen vuoren korkeus on 1.5km.

Johtopäätös
Kaikki kaukoputket ovat optisesti toimivia. Kaikissa on hyvät varusteet- käytännössä picatinnykiskot ja erittäin hyvin kenttäkäyttöön soveltuvat integroidut suojapussit. Karkea ristikon mittavirhe isommassa Sightmarkissa tosin aiheuttaa sen että kaukoputkea ei käytännössä voi käyttää muiden kaukoputkien tapaan tukena "edistyneessä" ammunnassa. Muuta kaukoputken käytettävyyttä virhe ei luonnollisesti vähennä, eikä asia vaikuta esimerkiksi kuvanlaatuun millään tavalla. Isompi Sightmark jyrää isommalla suurennoksellaan ja objektiivillään, sillä näkee tonnin putkista parhaiten. Kummassakin Sightmarkissa oli lisäksi lukematon määrä ylimääräisiä pieniä pisamia ristikkotasolla, ilmeisesti ristikon etsaus/maskausprosessin aikana syntyneenä ei-toivottuna sivutuotteena. Käytännössä pisamat eivät kuitenkaan haittaa katselua tai vähennä putken optista suorituskykyä. Käytännön katselussa pisteitä ei huomaa koska katse ja ajatus keskittyvät itse taustalla olevaan kuvaan. Pisamat saattavat silti ärsyttää jotakuta. Bushnell on erittäin kevyt ja ja siro, ja tulee varmasti otettua parhaiten mukaan "repunpohjalle" kaveriksi. Tarkennussäätö on erittäin herkkä kaikkiin muihin verrattuna, mutta varsinainen ongelma se ei silti ole. Toimii pienen totuttelun jälkeen.
Referenssiputkien suhteen ei yllätyksiä tullut, iso Zeiss määrä tahdin. Mainittakoon että Diascope 85:n pikkuveli Diascope 65 oli myös Suomen puolustusvoimien valinta, myös optiselta suorituskyvyltään loistava. Leupold Mk4 kuitenkin osoitti olevansa toimiva ja näppärä paketti, varsinkin hintansa nähden. Sekä zoom että varsinkin focus ovat sopivalla vasteella, putkea on vaivatonta käyttää. USMC/US Army ei valinnut sitä turhaan tarkka-ampujakaukoputkekseen, tosin M151 mallinimellä. Hensoldt on optisesti hieno ja jämäkkä sotilasputki, mutta zoom ja focus ovat ärsyttävän jäykkiä. Mikäli kaukoputki on kohdistettu tiettyyn pisteeseen, putkea on vaikea/mahdoton säätää niin ettei sen suuntaus muuttuisi. 
ENGLISH VERSION
There has been reasonable priced spotter FFP alternatives available for a while already. LR shooting has became popular, but offering in spotting side is still surprisingly modest. 
First things first: comparison against much, much more expensive spotters is not fair, and it wasn't intended to be. Meaning of this review is to see differences, and offer reasonable good idea to shooters what they would get with their hard-earned money. FinnAccuracy sells all spotters mentioned on this test- but our policy has always been that our customers should know what they are getting.
Problem with good FFP spotters has always been eye-watering price. In practice, LR shooter needs tend to disqualify all spotters without reticles- or at least, majority of practical field shooters would like to have usable reticle too in FOV. mrad scale is preferred, for same reasons with riflescopes. These terms have traditionally lefty only expensive military spotters on table- but now there might be usable alternatives. Or would there? This issue has kept Finnaccuracy R&D department wake during nights and especially days, so we decided to find out by ourselves.
Six scopes were used: Bushnell 15-45x, Sightmark 15-45x ja 20-60x, Leupold Mk4 12-40x, Hensoldt Spotter 45 15-45x and Zeiss Diascope 85 20-75x. Hensoldt is most expensive with its over 4000€ price tag (including Finnish 24% VAT). Hensoldt prices rised just before this article was written (9/2017). Hensoldt price consist Horus reticle licence fee, approximately 400€. Naturally Leupold does not get same reticle for free either, and this fee is naturally forwarded to Leupold customers too. Leupold is still much cheaper, with TMR or mildot- reticles approximately 2300€ including Finnish 24% VAT. Zeiss Diascope with bigger 20-70x Vario- eyepiece costs approximately 3000€, so reference scope price difference against for instance Bushnell is 3x...5x. 
Zeiss is older design, comes from era when Hensoldt was still part of Carl Zeiss. For instance, Diascope focus mechanism was originally designed by Hensoldt- but Hensoldt never used it in their own scopes. Zeiss is excellent scope and birdwatchers still appreciate its performance. Its one of the hardest scope to beat optically- but still good reference in any scope test where difference to top-end performance is under examination.
In FFP -spotter world, any variable magnification mil- reticle spotter under 1000€ price can be considered cheap. All three reviewed scopes fall under this magic number. 20-60 Sighmark just slightly, but still. 
What is inside?
Typical spotter construction- certain Leupold model in pic. Magnifying mechanism and prisms clearly visible. Worn saying "one must choose cheap or good" is not so simple anymore. Current far-east cheapo production can actually offer reasonable- even good- price to quality ratio. But if talking about absolute performance, western top league is still there alone. Especially if - for instance German - scope costs 5 times more. In another hand, glass or steel does not care of know where it was made as long as it was made right. On paper, cheaper FFP spotters seem really interesting, even very good. All are specified as water- and fogproof. All has multi-layer coated lenses (all lenses) and dielectric mirrors on prisms. Although Bushnell mirror spec had to be digged a little bit, specifications do not mention it directly. With Bushnell, prism material type is also specified to be "BaK4". Name is familiar to those who know about excellent optics- it is originally German Schott Glasswek product name for certain optical glass type and still widely used in high-end binoculars, for instance. How ever, most do not know that far-east manufacturers use same name for their own glassversion- but their version is made with different specifications. Amount of allowed micro-bubbles among other specs (refraction, diffraction) are not in same level. Bushnell also mentions about "PC-3" phase coating. This is related to phenomenon where different light wavelengths (colors) naturally bend in different angles from glass surface, causing blurriness and aberration. Phase correction coatings are not new invention either, but still cost some money. But in the end of the day, only image quality is what counts. "Pumagi pumaga, a praktika jest praktika" -as already late J. Stalin kindly explained difference between papers and practice to his Soviet citizens.

Out of three reviewed scopes, Bushnell is by far lightest and also smallest. Very much like Leupold Mk4. Also all three come with cordura- or similar canvas- protective pouch. Which is excellent by the way. Both objective and ocular can be protected fast with velcro/zipper flaps. Separate lens covers are not needed at all, scope can be tossed to backpack with skin on only. Will stay clean for next use. Very similar pouches were originally offered for Leupold Mk4 scopes easily 10 years ago, and it worked as conveniently already then.
Zeiss Victory Diascope
All spotters also have integrated picatinny rails, so for example adding red-dot is easy. Some use it for faster using of scope, as I do with my spotters. All three can also be mounted upside down, 1/4" camera thread is also on top part of scopes. All have straight body, which is only recommended lay-out for practical field spotting.  Tried budget spotters also use some components from same suppliers- eyepiece with internal zoom mechanism look very much same in both Sightmark and Bushnell. Objective lenses still reflect different color, so optically they still seem to be different- at least what comes to coatings.
Leupold Mk4 12-40 with Horus H-32. 400m/437yds.
With reticle design, Bushnell's version would have been my choice. For couple of reasons. As with Sightmark reticle, hairline is thin and does not interfere general distant observing too much- which is purpose of having spotter in the first place. Bushnell reticle has hashmarks with 0.2mrad deviation, and much more precise milling is therefore possible. Sightmark spotter has 0.5mrad hasmarks witch is good for any other spotting but milling. Bushnell mrad scale is 2% off, which is not optimal but still bearable: Distance error can be corrected easily without too much effort and without calclulator or charts, and 2% impact correction error in typical misses is more or less negligible. Smaller 15-45 Sighmark reticle was correct, as was the case with Hensoldt and Leuplold Mk4. Sightmark 20-60, however has about 34% dimension error, so reticle is unfortunately useless for most. Light line-hash reticle works well in LR shoot spotting because it does not destroy general visibility. If reticle is used for calling shots and measuring corrections, Horus H-32 type can rarely be used so that it is laid over target, as many would prefer to do it. In military use but also in target shooting, 2nd shot should be sent ASAP, in same wind conditions. In military use fast 2nd shot is important also for other reasons, target may cowardly seek protection after first near-hit impact. But seeing impact signature clearly enough to call it precisely and/or know previous hit placement is often very hard. Heavy pattern of rather thick reticle lines are blocking precious view, also distracting to eye. Good thing is that reticle is moved to lowed third of FOV, keeping center completely clear for general viewing and observing. With some manufacturers there are also several reticles to choose from, Leupold Mk4 for instance is offered with mildot, hash-0.2mrad TMR or H-32.
Lets measure!
Measurements were made with two different tests. First part was was measurement of absolute resolution with different color backgrounds, so in practice contrast effected in results too. Chromatic aberration was not measured or estimated this time, it would have required better conditions to reliably compare it. Second test purpose was to answer question puzzling shooters around world- "how far I can see bullet holes with it?". Real bullet holes were not harmed during tests, only black dots with precisely correct diameters. Resolution line charts were taken to 214m distance. Charts were originally scaled and thought to be used with riflescopes with max app. 25x magnification at 100m distance. In order to get reasonable performance dispersion between spotters, we used 214m distance. This turned out to be also close to maximum for weather conditions we had. Mirage was not really bad, little wind and 14C/57F, but still any more would have caused mirage- reduced points. As an pointer and clarification for test result sheet, used method arcsecond is not directly comparable to theoretical calculated max resolution. It is different thing to resolve, for instance, individual round dot with 1 arcsec diameter than several long lines with 1 arcsec thickness and 1arcsec deviation. Seeing lines is easier- and result is better that theoretical maximum resolution from same size aperture/objective can ever be.  However, results are still comparable when same charts are used, especially when they are used in same atmospheric conditions on same time. Note also that photos look much worse than image actually was. Mirage messes camera auto-focus a bit. Exposure time + mirage makes result even more blurry. So purpose of photos is to show what was going on. But we tried!
Based on mirage warning we had with resolution charts, we knew that its going to be even more difficult with bullet hole test. Mirage wasn't too bad, but still too much and limited performance of all spotters. We still decided to give it a go, just to see. Old riflescope rule-of-thumb was confirmed with spotters too- higher performance optics can "penetrate" also mirage much better. At 200m it was still possible to see all 5 "holes" with all scopes. At 300m, 15-45 Sightmark was only able to reveal .50 cal dot. Bushnell 15-45 was still able to reveal that there is .338 dot too. Sightmark 20-60 still resolved 7.82 (7.62) dot, barely but still. Leupold 12-40 and Hensoldt 15-45 showed still 6.5mm dot, but no even hope to see .224/5.56mm dot. At 400m Hensoldt ja Leupold were still surprisingly close, both were able to resolve .338 dot. Sightmark 20-60 showed only 50 cal dot, but nothing smaller. For this distance, Zeiss Diascope 85 was also hauled from trunk to row. As anticipated after line-chart tests, 6.5mm dot was still possible to see- with tightest margin. We knew that 500m distance would be more or less hopeless for all scopes, very likely .50cal is only that even could be seen, so we did not try it. 600m would be hopeless for any size dot. As we did not print any howitzer impact holes, we decided to give up at 400m. As an sidenote, Theoretically Zeiss 85mm (or any same size) objective is able to produce maximum resolution equaling .22 hole at 815m distance with 575nm light wave length, which is on about middle of visible light spectrum. Shorter the wavelength (shift toward blue), more details can be seen. 60mm objective drops maximum resolution to app. 570m distance with same .22 sized dot, so "performance drop" caused by smaller objective only is about 30%. 85mm vs 60mm objective surface-area difference is almost 50%, so this has its effect. Theory and practice are still not meeting in practical conditions- moisture (water on air) absorbs and distort light, and mirage messes it up even more. Further the observed object, relatively more atmospheric conditions start to take their toll. Also contrast effects greatly on ability to see details from image, so there can be big differences between scopes/models/manufacturers.
EDIT - Dot spotting test was done again with one scope, in better weather. See results here.
Sightmark 15-45, 200m. All dots still visible.
As an example what decent lens telescope can show when atmospheric conditions are not limiting factor. Upper photo with Leupold Mk4, distance to church tower on middle of pic is 14.7km or 9.13miles. Lower photo with Zeiss Diascope 85, Phytagoras crater. Crater diameter 130km or 80.7miles. Double peak center mountain height is 1.5km/4900ft.

Conclusion
All reviewed spotters work. All come with very good and usable accessories, meaning rails and skin- type pouch. Big reticle scaling error in bigger Sightmark makes purpose of whole reticle questionable, but it doesn't still take really anything away from general viewing side.Both Sightmarks also had countless amount or very small dots in reticle plane, probably as unwanted side-result from reticle etching/masking process. Some may be bothered about them, but in real life they do not really matter or take any optical performance away from scope. Bushnell is very light and slender, and would surely be the one from row that one packs to back-bag for occasional use. Bushnell focus is very sensitive to use- but is still not actual problem. Works fine after owner gets used to it.
There wasn't any big surprises with reference scopes. Mighty 85mm Zeiss still kicks ass. As a side note- Diascope 85 little brother Diascope 65 was selected for sniper teams by Finnish army. Also smaller version has excellent optical performance. Leupold Mk4 also showed that USMC/Army are not using it (M151 spotter) for no reason. It is cheaper, but very handy and also optically petty good. It is not Zeiss or Hensoldt- but still good. Zoom and especially focus are very easy to use- not too stiff but not too light either. Hensoldt is optically very good as expected, but also made sturdy with Al housing and therefore heavy. Hensoldt hs Both zoom and focus in Hensoldt are way too stiff to keep scope pointed during adjustments. Apparent reason is hevy-duty sealing- Hensold was made for hard conditions.
See specifications from manufacturer pages / Tekniset tiedot löytyvät linkkien takaa.
Bushnell Legend Tactical 15-45x 60mm T Series (781545ED)
http://www.bushnell.com/all-products/spotting-scopes/legend-tactical/15-45x-60mm-t-series#
Sightmark Latitude 15-45x60 Tactical Spotting Scope (SM11033T)
http://www.sightmark.com/product.php?item=656
Sightmark Latitude 20-60x80 XD Tactical Spotting Scope (SM11034T)
http://www.sightmark.com/product.php?item=657
Reference scopes:
Leupold Mark4 12-40x60mm Tactical Spotting Scope (FFP, Horus H32)
https://www.leupold.com/spotting-scopes/mark-4-12-40x60mm-tactical-spotting-scope
Hensoldt Spotter 45, 15-45x72 (FFP, Horus H32)
https://www.hensoldt.net/solutions/land/optronics/spotting-scopes/
Zeiss Victory Diascope FL 85 + Vario D 20-75x
https://www.zeiss.com/sports-optics/en_de/nature/service---support/download-centre/product-archive/victory-diascope-spotting-scopes.html#highlights
---