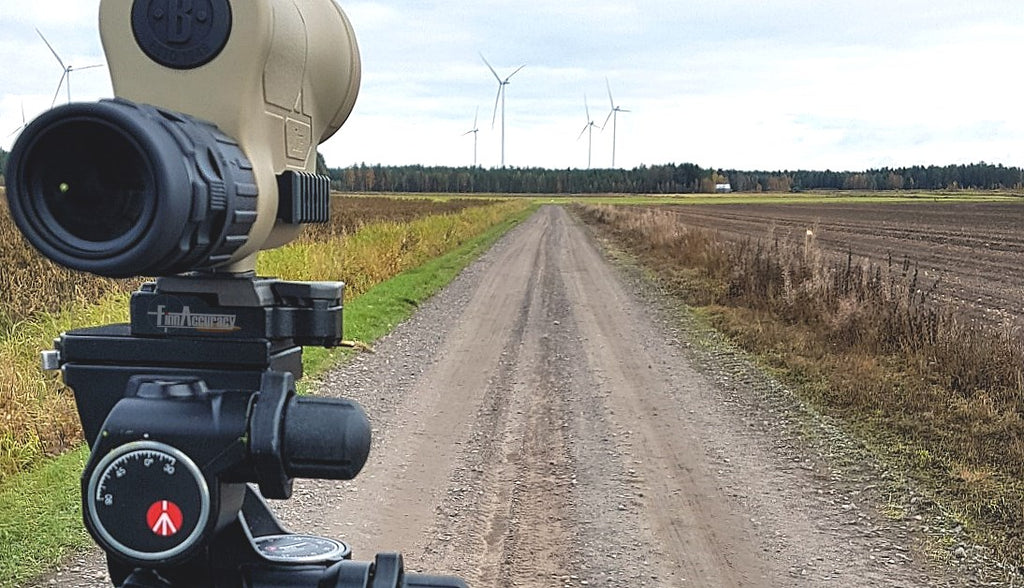 FFP spotters - Black dot strikes back! / FFP kaukoputket - mustan pisteen vastaisku!
SCROLL DOWN FOR ENGLISH
As an addition to previous test - täydennyksenä aikaisempaan testiin:
Edellisellä kerralla väreily rajasi käytännön suorituskykyä suuresti. Koska katselukeli sattui olemaan tänään lähes ihanteellinen, päätimme uusia testin. 7.5C, pilvinen, kevyt tuuli ja väreilyä erittäin vähän. Tauluna toimi sama mittatarkka dottipiirros kun alkuperäisessä testissä. Pikimusta pyöreä dotti näkyy käytännössä paremmin kuin repaleinen luodinreikä, mutta toistettavuuden nimissä testi tehtiin edelleen näin. Samaten kolmionmalliset kohdistusmerkit dottien ulkopuolella auttavat hieman. Näkemisen ollessa nippanappa ja niukin-naukin, katseen pitäminen täsmälleen oikeassa kohdassa auttaa havaitsemista.
Testiputkeksi valikoitui edullisesta kolmikosta käytännön optiselta suorituskyvyltään keskimmäinen, Bushnell Tactical 15-45. 
505m  - kaikki dotit nähtävissä
550m - .224 ei näy, 6.5mm edelleen
600m - 7.82mm pienin havaittava
700m - .338 pienin havaittava
800m - .50cal. Olisi näkynyt hieman pidemmällekin, ehkä 850m...900m.
ENGLISH VERSION
On our previous test, mirage limited dot visibility significantly. Today, weather seemed to be very good for spotting, so we thought to give another try. Temp 7.5C / 45.5F, light wind and clouds. Very little or no mirage. Reference table with dots was same than in previous test. In practice, pitch-black sharp-edged dot is easier to see than actual ragged bullet hole, but in sake of repeatability we decided to go with simulated holes. Also triangle-shaped forms next to dots help spotting. It is easier to spot a tiny detail when eye can be pointed to exactly right position.
Only scope used in this quick-test was Bushnell 15-45. As previous review showed, its practical performance was between Sightmark 15-45x and 20-60x. In practice, bigger Sightmark would have given much longer distances.
505m/552yds  - all dots visible
555m/607yds - .224 gone, 6.5mm smallest visible
600m/656yds - 7.82mm smallest visible
700m/766yds - .338 smallest visible
800m/875yds - .50cal only. Probably it would have been able to see it 50..100yds further.
315m/345yds
315m/345yds.
Images has been improved to bring appearance closer to actual. Still blurrier than actual view.
Kuvaa on parannettu digitaalisesti. Silti epätarkempi kuin todellisuudessa.
700m / 766yds
---