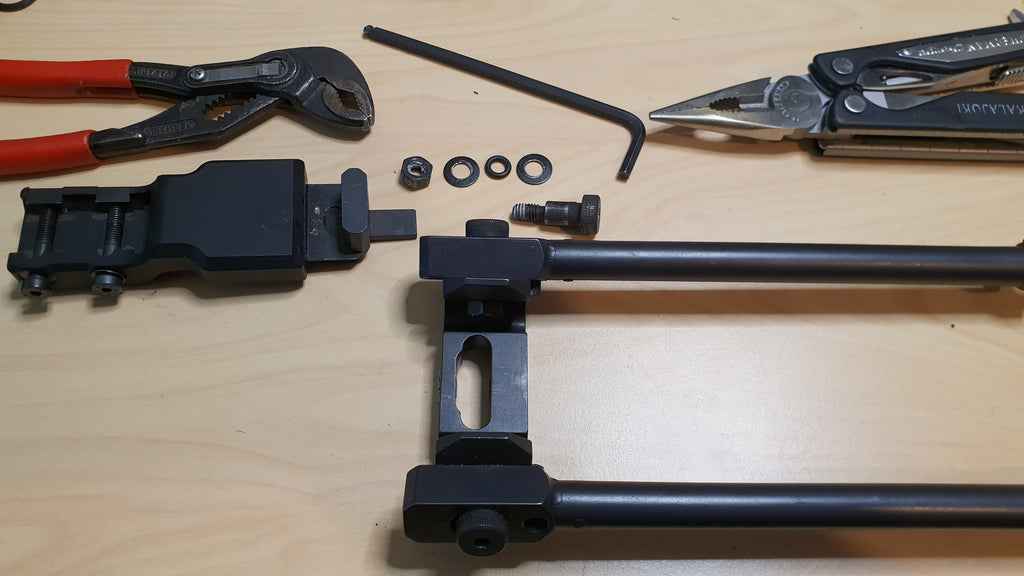 Sako TRG bipod, DIY modification
Original Sako TRG bipod was not copied by several aftermarket companies for no reason. It is simply very good for various types of field shooting. How ever- due to wear&tear, perhaps changes in tolerances too, some are not as good as they could be if slight resistance with tilt is preferred.

Sako uses 2pcs of flat spacers to fill empty space between bipod pedestal and leg parts. These spacers are not completely flat, but in fact slightly cup-shaped, hardened spring washers.
Sako TRG bipod tilting related parts are hardened steel, so modifying it with for instance by drilled/tapped hole is very difficult to do.

Our research&damage, or "ruin it yourself" - department came up with this simple mod. Purpose was to add just right amount of friction to tilt - and we are happy to say that this mod really works nicely. Tilt is firm but not too tight, cosy for those too who have used to bipod already.

- Tools, parts and resources needed:
* O-ring, OD 10mm
* 4mm Allen key
* 10mm wrench
* Pliers (Leatherman does not work)
* Beer (optional)
* Cigarettes (optional)
* 5min.....4h working time, depending.. well, you know..

Cost of this mod is basically zero. Tried several O-ring sizes, 10mm worked best.
Bipod disassembled to its main components. Our picatinny bipod adapter still attached to TRG bipod mount part - which is available in our webshop:
https://finnaccuracy.com/products/sako-trg-bipod-adapter
Original spring spacers, nut and hinge bolt. O-ring between spacers. This was not final O-ring size I used but smaller, recall it was 8mm OD.
Original washers/spacers and O-ring sandwiched between them. NOTE washer direction. Bottoms of washer "cup-shape" must be pointing toward O-ring. This is only way as spacers are squeezed hard with pliers during installation- o-ring must have room to expand while it's squeezed flat for installation.
Center o-ring carefully. When squeezing hard with pliers, O-ring should expand uniformly between washers. O-ring not centered carefully enoung on photo- its bursting out unevenly from one side. NOTE plier type. If you try to do it with Letherman pliers (or similar), pressing force will not be even on opposite edges of washers.
DO NOT use grease. Some friction is needed to keep O-ring in right location between spacers.

This is only part of mod where you need to be careful. If O-ring goes unevenly after squeezing washers hard, open pliers, fine-tune it and squeeze again.
Squeeze hard + press to get it in its place. Do not grease!
In pic, o-ring was not centered carefully enough. Ring part toward camera not between spacers, would probably be damaged if it would be pressed in as it is.
As soon as you get start right, press whole package down evenly
If needed, fine-tune washer alignment to get hinge bolt back to thread and its place.
Done! Squashed O-ring peeking between spacers.
I find bipod tilt very nice after mod. If tilt feels too firm, probably few drops of penetrating oil will help... or makes is way too slippery...
Latest M08 - type narrow-leg TRG 22/42 bipod comes as two versions. Earlier one does not have spacers.
---